D23 Magical Screening Series: The Three Caballeros 75th at Walt Disney World
Sat. Feb 15, 2020 at 10:00am EST
Event Description
Have you ever been to Baía? Join D23: The Official Disney Fan Club as we invite you to samba with of our fine-feathered friends at a 75th anniversary screening of Walt Disney's The Three Caballeros, at the AMC Disney Springs 24 at Walt Disney World Resort on Saturday, February 15, 2020.
DETAILS
Before the screening, D23 Gold Members and their guests will enjoy a delightful pre-recorded behind-the-scenes presentation created just for the D23 Magical Screening Series, featuring the creators of the popular Legend of the Three Caballeros (now available to stream on Disney+), including Disney Legend and the voice of Donald Duck Tony Anselmo, Director Matt Danner, Art Director Chris Moreno, and Lead Story Editor Christopher Painter. As a special bonus, we are also excited to host a screening of a rarely seen Donald Duck cartoon short. After those thrilling tropical treats, D23 Members will sit back and enjoy Donald, José, and Panchito on their exhilarating tour of Central and South America on the big screen!
This one-of-a-kind event will include an AMC Theatres voucher for popcorn, bottled water, and an exclusive D23 limited-edition The Three Caballeros gift—created just for this Magical Screening Series.
The event begins promptly at 10 a.m. at AMC Disney Springs 24 and will last until approximately 12 p.m.. Check-in will begin at 9:15 a.m. Please do not arrive before 9:15 a.m.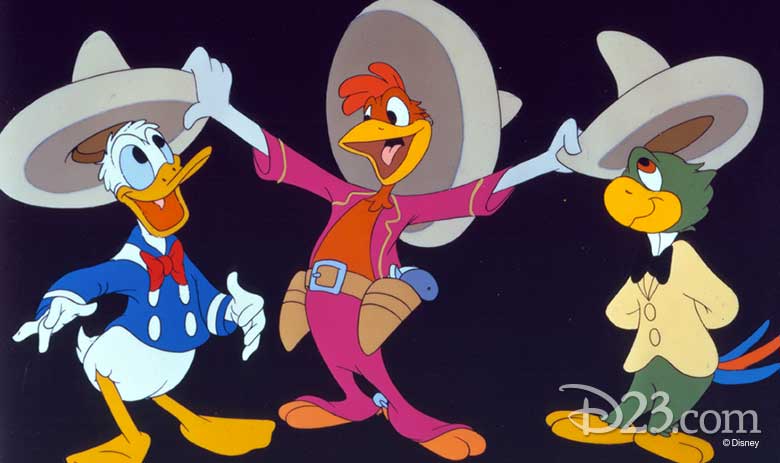 NOTES


D23 Gold Members may reserve a ticket for themselves and one (1) guest. D23 Gold Family Members may reserve a ticket for themselves and three (3) guests.


Children should be supervised. Guests under age 14 must be accompanied by a Guest age 14 or older.


D23 Members who do not bring their photo IDs and tickets will not be admitted to the event.


Ticketed Members and guests who do not attend the event forfeit their place as well as all experiences, benefits, and gifts associated with the event. D23 Members must be present or guests will not gain admittance to event.


All D23 Events are subject to change without notice. There are strictly no cancellations or refunds, and tickets are not transferable.


PLEASE BE ADVISED: Filming, photography, and other recording will take place at AMC DISNEY SPRINGS 24 during the event you will be attending. By entering the premises, you irrevocably consent to and authorize Disney Worldwide Services, Inc., its affiliates, successors, and assigns (collectively "Disney"), to photograph you, make sound recordings of you, and use such photographs and recordings throughout the world, for any purpose whatsoever in perpetuity, including, but not limited to, television broadcasts and home entertainment products, including, but not limited to, home video and DVD. All such photographs and sound recordings will be the sole property of Disney.